How Restored Kitchen Furniture Can Complement Your New Kitchen


Upcycled vintage kitchen furniture unique collections for your new kitchen design
Kitchens are truly the heart of any home; they're the space where you cook and eat your meals and socialise with friends and family. This is often why homeowners are willing to spend a huge amount of time and money on creating the perfect kitchen for their property.
If you are refurbishing or renovating your kitchen, then it can be a high-pressure task trying to find the right pieces for your specific needs and aesthetic. But have you considered restored kitchen furniture as an option?
The most appealing feature of upcycled vintage kitchen furniture is that there are so many options which means it is extremely versatile from a visual perspective.
Vintage painted dressers work perfectly with shaker style kitchens
It complements both shaker kitchens and those of a more traditional design so there are no limitations with what you can do when it comes to restored kitchen pieces.
The rustic charm of upcycled dining tables and chairs works in harmony with classic-style kitchens, such as barn conversions or traditional country homes, whilst ercol sideboards can help create a chic contemporary kitchen with character.
Then there are the popular shaker kitchens that are well-suited for painted vintage dressers and cabinets. Each and every piece of restored furniture is full of character and creates a different aesthetic and finished look for your kitchen. They can also be worked into all types of spaces, such as vintage drop leaf tables that can be conveniently placed without taking up too much space in smaller kitchens or dining areas then extended out when there are additional guests that need seating.
This means that you are not completely restricted by room size when it comes to the furniture that you want to incorporate into your kitchen
Restored kitchen furniture has a unique charm
Whatsmore, upcycled kitchen furniture has the benefit of being unique which means that you can truly build a one-of-a-kind kitchen that can't be replicated by anyone else - a rarity in this day and age.
Restored kitchen furniture is also versatile when it comes to functionality making it well worth the investment. For example, old charm vintage kitchen dressers and upcycled kitchen cupboards can serve the dual purpose of being used to create a beautiful display and as an area to organise or store your fine china.
Vintage kitchen furniture is eco friendly
Finally, using upcycled kitchen furniture to decorate your kitchen is far more sustainable than buying mass-produced pieces from retail stores.
Restored furniture is part of a circular economy that keeps goods out of landfills and in use for as long as possible to reduce waste and preserve resources. When you invest in restored kitchen furniture you are, essentially, doing good for the planet.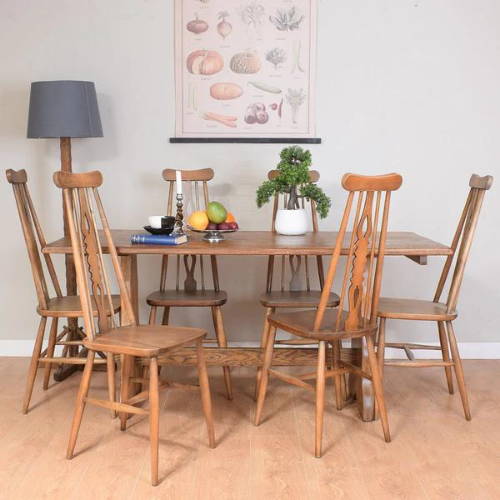 Restored Furniture are a charitable collaborative that upcycles old and used furniture so that it can be resold and reused for years to come.
---
Check out our range of restored furniture for sale