Why bring a restored oak coffee table into your home

An upcycled coffee table will be in constant use
A refurbished coffee table will be the most used of all household furniture; it is highly versatile, durable as well as aesthetically pleasing. However, restored vintage furniture such as a lovely coffee table is underrated and not viewed as an integral piece of living room furniture essentials. As we all know, this is not true! A retro coffee table is the workhorse of a family home; it has many guises, catering for all needs and demands daily. A rustic oak coffee table delivers so many benefits to the whole household. Aside from being classic and elegant in their design, the artistry involved in producing these stunning pieces is unrivalled. They are the centre point of any living space, continually used for a multitude of purposes. Your antique coffee table will inevitably function as a dining table, a seat, a craft table, and a foot stall. It will also be a step up for when changing light bulbs or when dusting the chandelier! The other great attribute to a restored oak coffee table is that it will never date. It has withstood the test of time for many years and will continue to do so. It is well seasoned to blending in with passing trends, remaining unique, unspoilt, and more purposeful than attended, restored oak furniture, built to last.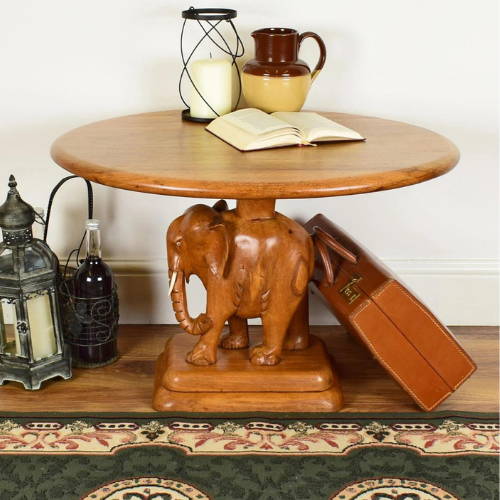 Take measurements of your room to find the ideal restored oak furniture table.
To make the most of your vintage coffee table uk, so it comfortably fits into your living space, neatly but not imposingly, is simple and can be incredibly effective. The vintage coffee table is a centrepiece of most living areas; unlike your other living room furniture items, placed against the walls, the coffee table will grace the floor space, so its size is imperative to the overall shape and ambience. The general rule of thumb is that the upcycled coffee table should be at least half the size of the sofa, the height should also be a similar level to the seats, give and take four inches. Taking measurements of the existing furniture before purchasing is a clever idea to ensure your table performs the best it can; whilst blending into the available space you have
Will an oval coffee table or a rectangular coffee table work best for your living room?
Choosing the right shape of vintage furniture, such as a refurbished coffee table, is a matter of preference. However, there will be factors to consider ensuring you find the perfect balance that works in harmony with your living area. To complement a classic two or three-seater sofa, a rectangular or oval-shaped restored coffee table may work perfectly. If your existing sofa and chairs are in an L-shaped formation, then a square or a circular coffee table may work best, adhering to the ratio size of half to two thirds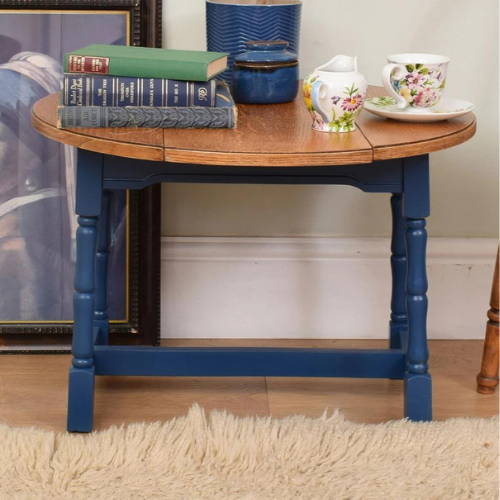 Learn more about our restored furniture service
In addition to restoring furniture for retail, we offer a private restoration service. Repairs, stripping, refinishing, waxing, lacquering, and painting. We can also arrange a collection and delivery of your completed restoration work; contact us for more information.
---
Check out our range of restored furniture for sale