Why Invest In A Restored Dining Table?

As your family grows or you find yourself hosting regularly at your house, the need for a large dining table becomes more apparent and, if you have the space to accommodate one, you will quickly find that it's a worthwhile investment.
But making sure that you find the right one for your space - that meets your requirements and enhances your home decor - isn't always the easiest of tasks.
One thing is for sure though, a restored dining table is always the best place to start.
What are the benefits of adding a refurbished dining table to your home?
A dining table acts as a gathering point in any home whether it is for entertaining friends or seating the family for dinner. It is also the focal point for open plan kitchens and dining rooms so is key for setting a certain ambience in these spaces.
If you don't currently own a dining table then you are missing out on the opportunity to create a place in your home that can bring people together and elevate the areas that you cook and eat.
Studies have also shown that those who have a dining table in their home, and use it, tend to eat more nutritionally balanced meals. The psychology behind this is that when you sit at a dining table to eat every day, you tend to pay more attention to what you are eating and take your time eating it too.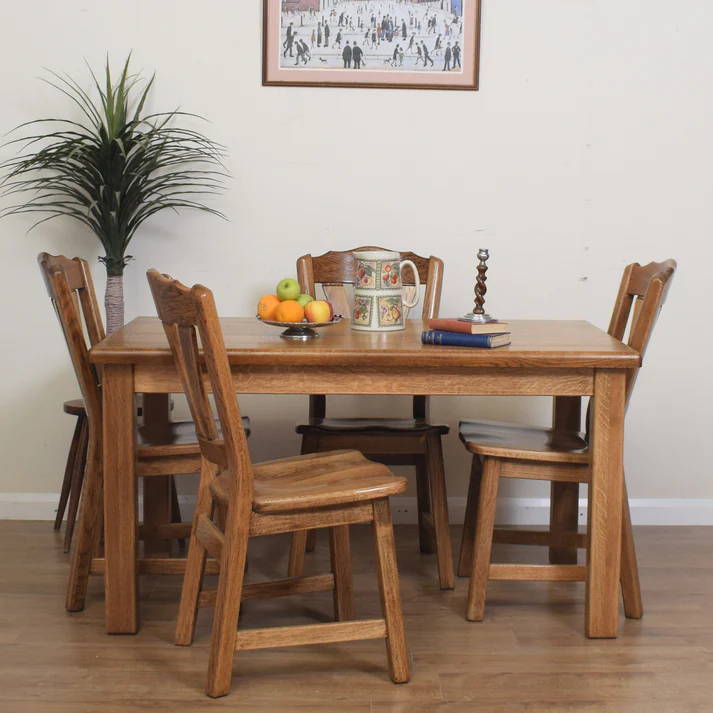 Why invest in a vintage dining table rather than a new, flat-pack alternative?
There are many arguments for purchasing restored furniture for your home instead of mass-made alternatives. The first being that upcycled furniture has a unique charm that cannot be replicated with flat-pack options.
Restored pieces may be old, worn and pre-loved but there is something to be said for the elegance and classic-look that adding vintage furniture can bring to your home, and it will certainly make your home stand out.
Home interiors have become almost indistinguishable from one another as most homeowners turn to large furniture stores and buy mass-made pieces that they have seen on social media rather than looking for upcycled options that are more unique. This leaves many homes looking identical to one another inside.
By investing in restored furniture, such as a vintage dining table, you are adding character to your home that will set you apart and definitely get people talking when they visit.
Plus, you can rest assured that no one will have the same exact dining table in their home.
Vintage dining room furniture is a unique addition to any home
Another brilliant benefit of restored furniture is that their very nature means that you don't have to worry about adding any scratches, dents or damage. An upcycled piece of furniture has likely lived in many homes before it reaches yours and will have imperfections which only add to its charm. This means that you don't have to be as careful about keeping the furniture looking 'good as new' like you would with flat-pack furniture.
This is particularly appealing for a dining table as it will constantly be exposed to hazards, such as cutlery and food stains.
Browse our full range of restored dining tables and chairs here
---
Check out our range of restored furniture for sale