Restored wood furniture in your home
to bring the family together for the winter months

How our restored wood home furniture brings people together
Creating a warm and inviting space at home for family and friends to relax and unwind in is particularly special during the winter months. It's a time to consider how you may want to embrace and unite your guests; having restored vintage oak furniture on display can enhance the ambience that you wish to portray. There is an array of distinctive restored wood furniture to choose from that can assist in bringing your family and friends together. As the kitchen is the most sought-after space within many households, it offers you the chance to be creative, let your imagination run free and express your personality. Items such as restored dining chairs and tables can be a centre point of any kitchen and dining room, especially if you are fortunate to have an open plan space to entertain within. You may opt for shabby chic furniture, retro or painted furniture to grace your kitchen; it will certainly add character and draw people in; to relax and eat together.
Feel warm and comfy in your home with restored wood furniture
One of the many great attributes of restored vintage furniture, aside from looking exquisite, is that it's incredibly comfortable. Like a fine wine or worn-in leather, restored wood furniture beholds a sense of wonder, intrigue and fascination, all of which can be shared amongst friends and family over dinner on long winter nights. When considering vintage furniture near me, be sure to delve into an alternate reality of possibility. There are no boundaries to furniture restoration; it's there to be enjoyed by the whole family and friends, especially during the cosy winter months at home.
How restored oak furniture can help you entertain friends and family members this coming autumn
With so much exciting and tempting upcycled furniture near me to consider for your living and kitchen space, you will always be able to uncover a gem to display and enjoy with friends and family. Choosing the most welcoming styles of restored wood furniture for your home can create a warm and winsome atmosphere. Like how a bedroom may display a vintage dressing table or antique wardrobe as the focal point.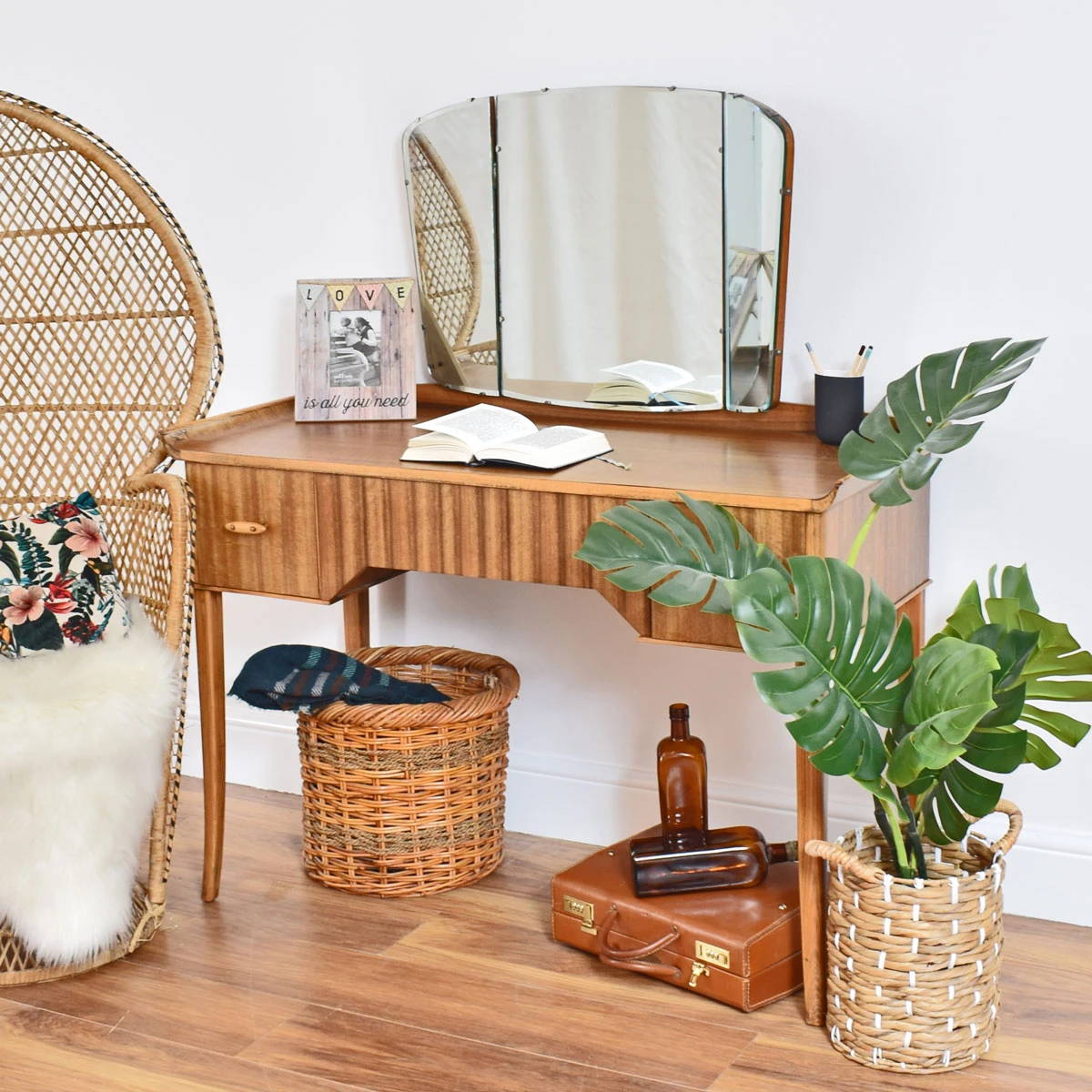 Restored oak furniture delivers a unique and warm interior within your home.
Your kitchen and dining area can exhibit restored oak furniture; in the same way, delivering a unique and warm individuality that many modern pieces struggle to achieve. When considering upcycled furniture near me, you can ponder over styles that could match your theme and colour pallet. Painted oak tables and chairs offer a classic style of elegance, robust but graceful; these are one of the most sought after. The retro French style table and chairs are a pleasantly delicate collection, a spacious six-seater that will bring family and friends together in sumptuous style. Restored extendable tables are also another good idea for when you are inviting guests for dinner. These are perfect for large parties to dine at as well as for buffets. They can also fit into a smaller space when not needed to be extended. The classic oak farmhouse dining table and chairs offer a more traditional style, ideal for a country themed kitchen. It has a generous dining space along with comfortable seating, making it the perfect space to share and feast with friends and family winter long.
---
Check out our range of restored furniture for sale