Why Add A Restored Blanket Box To Your Home Decor?

Blanket boxes are a piece of decorative storage furniture that can enhance any home when given the opportunity.
In particular, a restored blanket box can hold a great deal of sentimental and historical value that will bring a piece of the past into your home. These pieces of furniture were once a common household item and were often passed down from generation to generation, carrying with them the stories and memories of those who owned them.
A blanket box was typically used to store bedding and linens, but it also served as a place to store other cherished items. It was often where a family kept their most valuable possessions, such as photographs, letters, and keepsakes.
Restoring and using a blanket box in your home can help preserve these connections to the past and help you honour the craftsmanship and hard work that went into making it.
A restored blanket box can be a statement piece in a room and they feature unique details, such as hand-carved designs or ornate hardware, that make them stand out.
When choosing one for your home, you should consider the style and material that best suits your aesthetic. A wooden box with a natural finish can work well in a rustic or farmhouse-inspired room, while a painted or upholstered box can complement a more modern or eclectic decor.
Retro blanket boxes offer several practical benefits too. They are an ideal place to store spare blankets and cushions or to fold away towels, bedding and other soft furnishings when not being used. It can even serve as a place to stow away seasonal items, such as winter boots or coats, so they are not taking up space or cluttering the home during the warmer months.
For optimal impact, you can add dividers or label some small, clear boxes to keep the contents of the blanket box organised and accessible.
What are the main differences in storage with a blanket box compared to a vintage chest of drawers?

Though a restored blanket box and vintage chest of drawers share the same sole purpose of acting as a piece of storage furniture for the home, they have a few differences which may determine which is most suitable for you.
A blanket box is typically a large, open-topped box or chest that is used to store blankets, bedding, and other linens. It usually has a hinged lid that can be lifted to access the contents inside and provides a large, single compartment.
Whereas, a vintage chest of drawers is a type of furniture with several drawers stacked on top of each other, typically ranging from two to six drawers, providing multiple compartments for easy organisation.
The main difference in storage between a blanket box and a vintage chest of drawers is the way that items are stored. A blanket box is best suited for storing larger items such as blankets, comforters, and linens, while a chest of drawers is better for storing smaller items such as clothing, jewelry, and accessories.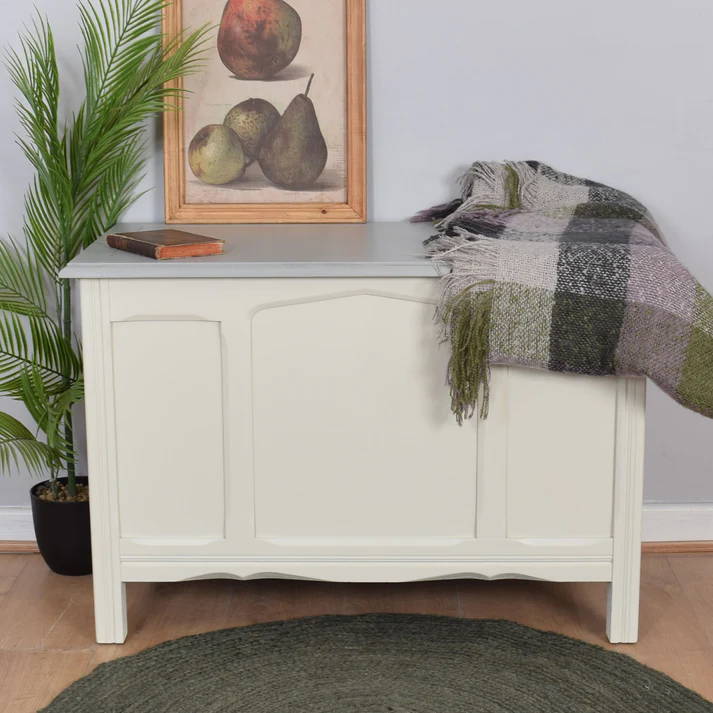 Which woods should you consider when exploring retro blanket boxes?
The two most popular wood options for vintage blanket boxes are pine and oak.
Pine blanket boxes are typically less expensive than oak blanket boxes and are lighter in colour, with a natural wood grain that can be enhanced with staining or painting.
Pine can be more susceptible to scratches and dents, however, so it may not be as durable as oak.
Oak is a harder wood and heavier than pine. It has a darker colour with a more prominent wood grain and can be left natural or stained to enhance the wood grain and deepen the colour.
Ultimately, the choice between a pine or oak blanket box depends on personal preference, budget, and the intended use.
Upcycled Oak Furniture For The Bedroom
Vintage oak furniture is an excellent choice for the bedroom, as it can add a sense of warmth, comfort, and elegance to your personal space.
Some popular vintage oak furniture pieces for the bedroom include restored oak chests of drawers, antique oak wardrobes and vintage oak trunks. They can all work with both traditional and modern bedroom interior designs, bringing beautiful, unique and functional upcycled oak furniture into your bedroom in a sustainable way.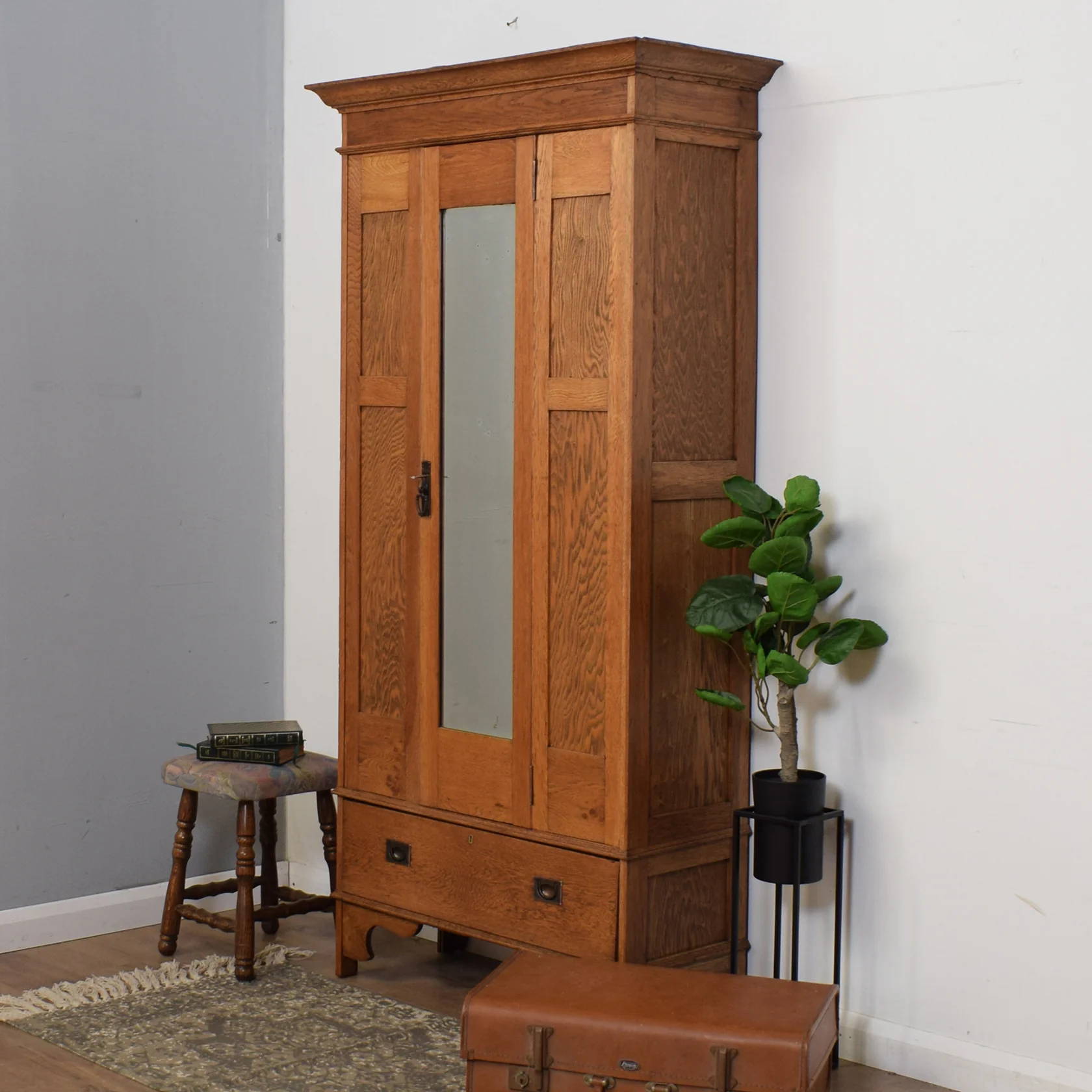 Vintage Oak Furniture For Storage
There are also a number of pieces of vintage oak furniture that serve the purpose of providing additional storage space in your home. From antique oak sideboards to oak linen cupboards, the strength and durability of oak wood makes it a popular choice for furniture like this which needs to withstand heavy use and weight.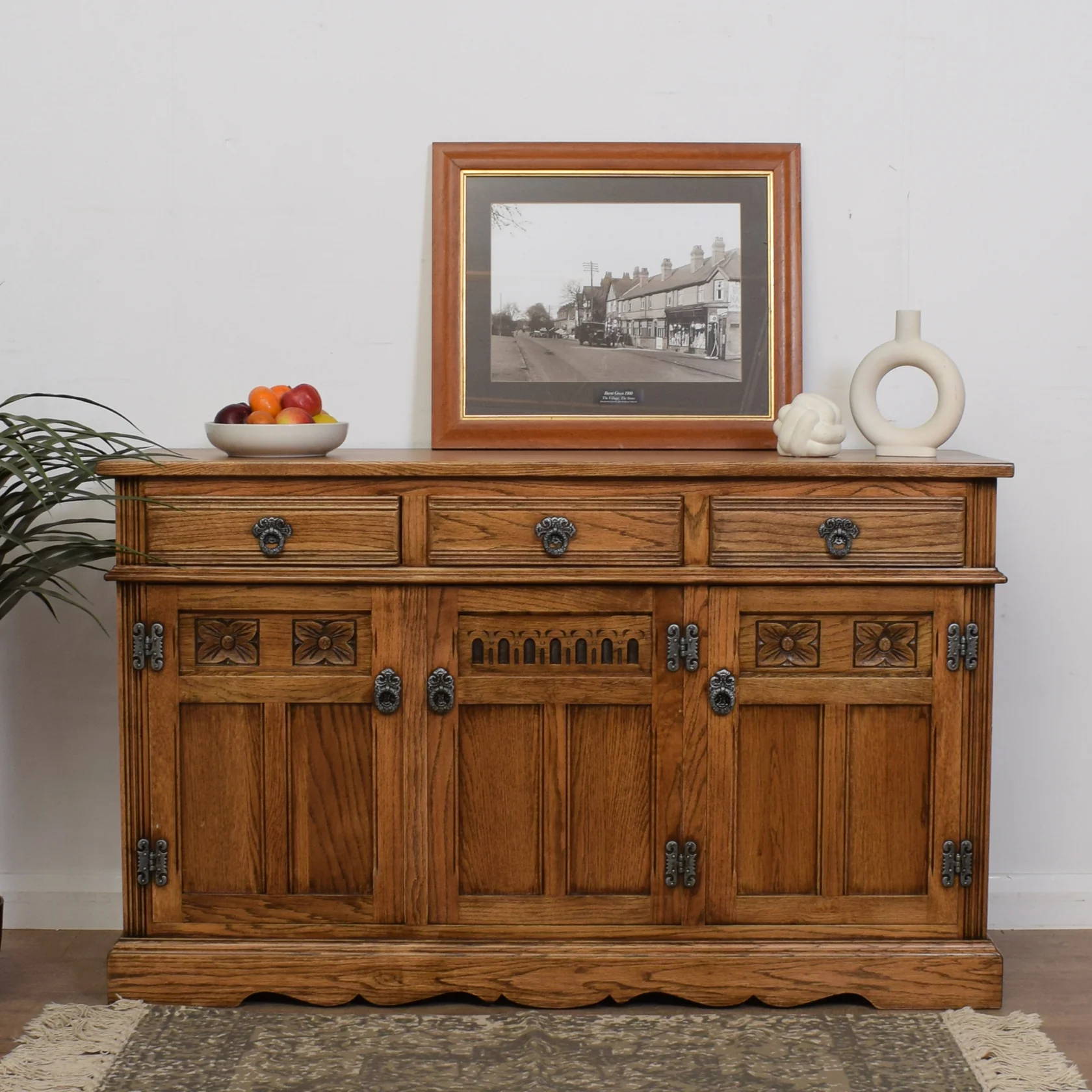 The Value Of Vintage Oak Furniture
Vintage oak furniture is a fantastic investment for anyone interested in interior design and furniture collecting. Not only does it offer a sense of timeless elegance and beauty, but it also holds significant value in both monetary and aesthetic terms.
The wood's natural texture, combined with its rich, warm colour, can create a sense of comfort and luxury that give it a more premium feel. This, along with the superior craftsmanship and durability, makes vintage oak furniture a high value item that is well worth the investment.
Whether you are an interior designer or a furniture collector, vintage oak furniture is a must-have addition to your collection.
---
Check out our range of restored furniture for sale