What Is Ercol Furniture and Why Do You Need It In Your Home?

When decorating your home, each piece of furniture should be carefully considered and what better place to start than with Ercol.
Learn more about vintage Ercol Furniture
Ercol is a British furniture manufacturer that places emphasis on design across three core areas - comfort, function and beauty. All of their pieces are handmade and high-quality to create a collection of elegant furniture for every room in the house.
From stylish sofas and sleek coffee tables to beautiful bookcases and beds, you are sure to find something that works for you in their vast product range.


The history of Ercol furniture
Ercol have been leaders in design for the home since the 1920's.
The company was founded by Lucian R Ercolani, an Italian designer who lived in England at the time. He set out to create a company that held design and people at its core by designing and manufacturing functional and straightforward furniture. This remains true of the company today. It is still family-owned with Lucian's grandson and great grandson continuing the business and upholding the beliefs that it established at the very start.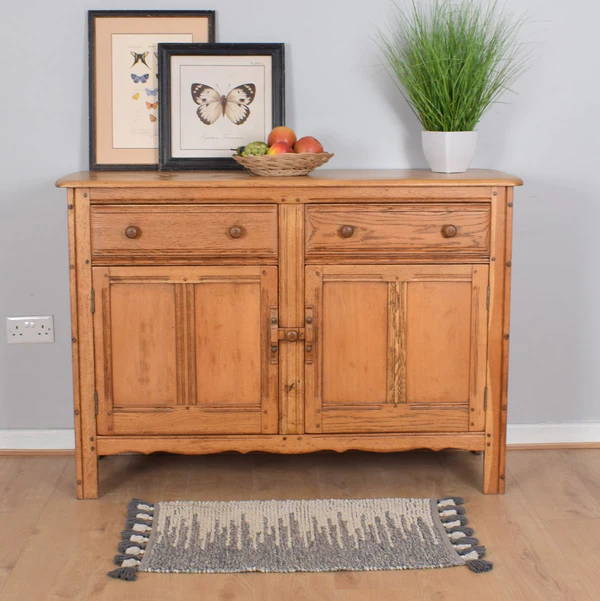 Why not bring vintage Ercol furniture into your living room

Your living room is a space that you use to unwind at the end of the day or socialise with friends and family at the weekends, so you want to make sure that you create a relaxing environment and a room that you are proud to show off. A great way to achieve all of this is by adding vintage Ercol furniture, such as our Ercol Renaissance Sofa or Ercol Windsor Sideboard, into your living room.
Their refurbished furniture can take pride of place in your living space with chairs and sofas that perfectly combine style and comfort, or vintage storage pieces that are practical and elegant.
Each piece is truly timeless and can be passed down for generations making it a worthwhile, long-term investment.
Restored Ercol sideboards are adaptable to all rooms

Our restored Ercol sideboards are not just great for the living room; they are adaptable to all spaces as a piece of storage furniture. They can be placed in the dining room and used to store tableware, or even in the bedroom for clothing and home textiles. Why not get one for every room and create cohesion throughout the home. Every Ercol sideboard has a traditional feel that works particularly well in older Victorian or Edwardian homes, but can add a bit of classic charm to more modern homes too.
But the main appeal of these feature pieces is their practicality because every home has a use for storage furniture like this.

Ercol table and chairs are the ultimate addition to your kitchen

You can even bring restored Ercol furniture into your kitchen with our Ercol Extending Table and 4 Chairs collection. It is full of beauty and character that you can't find in mass-made, store bought furniture. This piece can work well with most kitchen styles but lends itself best to the more classic-style farmhouse kitchens.
If you are looking for ways to enhance your home interior, or you have recently moved into a new property and want to create your dream home, then there is definitely something that will work for you in our vintage Ercol furniture collection. This restored furniture is truly the best of British.
---
Check out our range of restored furniture for sale